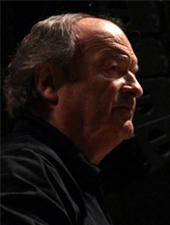 After playing a major role as chief conductor and artistic director of the Brussels Phiharmonic until June 2015, Michel Tabachnik is now its chief Emeritus.
He is also the guest of prestigious institutions such as the SWR Stuttgart, Konzerthaus Berlin, the orchestra of La Fenice in Venice, the St. Petersburg Philharmonic, the Budapest-Festival Orchestra, The RAI Orchestra of Turino, The Orchestre de Paris and festivals such as Luzern or Salzbourg. He performed three times during the inaugural season of the new Paris Philharmonic.
As soon as he finished his studies, he was noticed by several great conductors who gave him their precious support, including Herbert von Karajan, who regularly invited him to conduct his Berliner Philharmoniker, Igor Markevitch, for whom he was assistant to the Spanish Radio Television Orchestra in Madrid before becoming Pierre Boulez's assistant for four years, mainly with the BBC Symphony Orchestra in London.
This collaboration led him to become closely involved with the music of our time. Close to Stockhausen, Berio, Ligeti, Messiaen... he conducted many world premieres, in particular about twenty works by Iannis Xenakis, who considered him his favourite performer.
Michel Tabachnik has held the position of Music Director of the Gulbenkian Foundation Orchestra in Lisbon, the Orchestre Philharmonique de Lorraine and the Ensemble Intercontemporain in Paris. After 6 years as the titular conductor of the Noord Nederlands Orkest, he is now the Chief Emeritus of this orchestra.
Since his nomination in September 2008 as musical director of the Brussels Philharmonic, Michel Tabachnik's influence on this orchestra has been spectacular. The Cité de la Musique in Paris reserves a residency of 3 concerts per season for them. They perform in Berlin, London, Vienna, Amsterdam, Rotterdam, Salzburg... Their tours take them notably to the Far East, Germany, Great Britain and France.
In the operatic field Michel Tabachnik has conducted in the opera houses of Paris, Geneva, Zürich, Copenhagen, Lisbon, Rome, Montreal, Genova, Bolshoi Theater... He has been a regular guest with the Canadian Opera Company in Toronto, where he led, among other works, Lohengrin, Madama Butterfly, Carmen, The Rake's Progress…
Alongside his activity as a conductor, Michel Tabachnik is also a composer and writer. Several of his works have been recently premiered, the Prélude à la légende at the Besançon Festival, the Violin Concerto with the Brussels Philharmonic, Le livre de Job at the Cité de la musique in Paris and finally, in 2019, Sumer, his cello concerto performed by Gautier Capuçon.
Libretto by Regis Debray, opera Benjamin, dernière nuit, is created in March 2016 at the Opera de Lyon which commissioned him the work.
On the literary front, after De la musique avant toute chose (2008) and L'homme sauvage (2013), Michel Tabachnik has published several novels, the latest of which is L'enlèvement au Sinaï. In 2016, Ma Rhapsodie, an essay devoted to his relationship to music and life, was published by Buchet-Chastel.
Part of his time is dedicated to young musicians. He has conducted several international youth orchestras. He was Artistic Director of l'Orchestre des Jeunes du Québec (1985-1989) and, over a twelve year period, l'Orchestre des Jeunes de Méditerrannée which he founded in 1984. As a respected pedagogue Michel Tabachnik has given numerous Master Classes in Hilversum, Lisbon (the Gulbenkian Foundation), Paris, Brussels and Stockholm conservatories. He has held the position of Professor of Conducting at both the Faculty of Music,University of Toronto (1984-1991), and the Royal Academy of Music in Copenhagen (1993-2001).
His discography (with Erato and Lyrinx) reflects the eclecticism of his repertoire, which ranges from Beethoven to Honegger, from Wagner to Xenakis. His recording of Schumann's Piano Concerto (with Catherine Collard) was acclaimed by the International Jury of the Radio Suisse Romande, who designated it as the best performance of this work. It is now enriched by recordings on the Brussels Philharmonic label, notably with his Rite of Spring, praised by the Gramophone Awards of 2013, and his interpretations of Debussy's La Mer and the New World Symphony by Dvořák, both ranked number 1 by the magazine Classica and Radio France.
February 2020